We strive every day to address the needs of the children and families in our care. Our early learning centers offer high quality security systems. Your child's health and safety is our highest priority, and we've invested in the latest and best technology to ensure that Dr. Day Care is safe and secure location for your child.
National Accreditation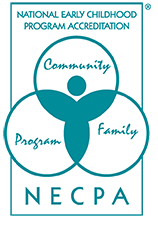 Dr. Day Care Learning Centers are nationally accredited by National Early Childhood Program Accreditation (NECPA).  To receive national accreditation, centers must meet and maintain high standards for program and staff in safety, health, education, and more to prove best practices. Dr. Day Care Learning Center complete an extensive self-study process, measuring the program and its services against the NECPA standards.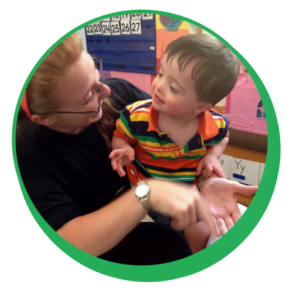 These standards assess quality in the areas of adult and child interaction, staff qualifications, health and safety, physical environment, administration, and parent and community relationships.  Every three years the program must be reevaluated in order to become reaccredited.
Daily Online Communication
Dr. Day Care uses a parent communication app called Tadpoles.  Each classroom has an iPad with the Tadpoles software specifically tailored for the childcare industry to provide families with instant communication. It utilizes mobile technology to provide visibility and communication between parents and teachers.
The Tadpoles software allows our teachers to capture special moments, take photos and videos of your child in action, as well as send you classroom information and updates throughout the day.
Reports about your child's naps, meals, and potty use are automatically emailed to you when your child is signed out for the day. We also use our iPads to send pictures, and occasionally short videos, so you can stay connected throughout your child's day.
To find out more about Tadpoles, please visit: www.tadpoles.com
Secure Entry System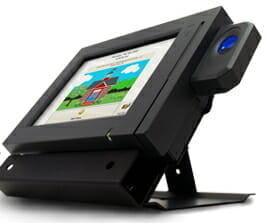 We offer the most advanced system in the child care industry. Every door is securely locked and the building can only be accessed through a biometric fingerprint scanner or coded password. We utilize a coded password or Procare's Biometric Fingerprint Check-in Scanner  to ensure only authorized caregivers can pick up or drop off  children in our centers. To gain access, all visitors must show a picture ID, even those authorized to pick up a child.  Our security standards are rigorous and strictly enforced. Only authorized caregivers can pick up or drop off the children in our care.
Video Surveillance Technology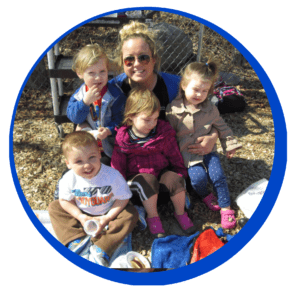 Select Dr. Day Care locations have a  video surveillance system. Video surveillance technology is placed in areas of the facility so that children are monitored during play time, education, meals and nap time. Also, to prevent vandalism and theft, video surveillance technology may monitor the outdoor areas. It is extremely important for Dr. Day Care to provide safety for your family and staff. An informational sign informing the public that video surveillance is used will be placed at the main entrance at Dr. Day Care locations with video cameras.
Fire & Emergency Preparation
Emergency procedures for medical, tornado, fire, and crisis management are in place.  Dr. Day Care staff are trained on how to handle these situations if they should arise and practice drills according to licensing regulations. Regular fire drills are conducted throughout the year so that our children, staff, and teachers are prepared in the event of an emergency. Each center also has an emergency evacuation plan and a safe location to evacuate to if needed.
Background Checks & Staff Training
Every Dr. Day Care employee receives a thorough and comprehensive fingerprint and background check before entering our classrooms.  All teachers must complete 30 hours of early childhood training each year, including infant, child, and adult First Aid and CPR.  Every learning center has a registered Nurse and/or Nurse Consultant to assist with any health related concerns.
Screen Time Policy
Screen time is used sparingly for preschool and school age children, extremely rarely for toddlers and never for infants.  This screen time is not used to replace interactive play in learning centers such as reading, art, music and movement, etc. When a screen is used, it is always offered as a choice, not a reward and should involve active engagement between teachers and children. The computer can be used for 15 minutes per day, per child.