Looking to earn college credits and get a degree? Check out these great resources to earn your college degree or college credits and advance your career.
Tuition Reimbursement
Already enrolled in a college program? Employees may seek to be reimbursed for approved college classes or credits. See your Administrator or contact HR for details.
T.E.A.C.H.® Rhode Island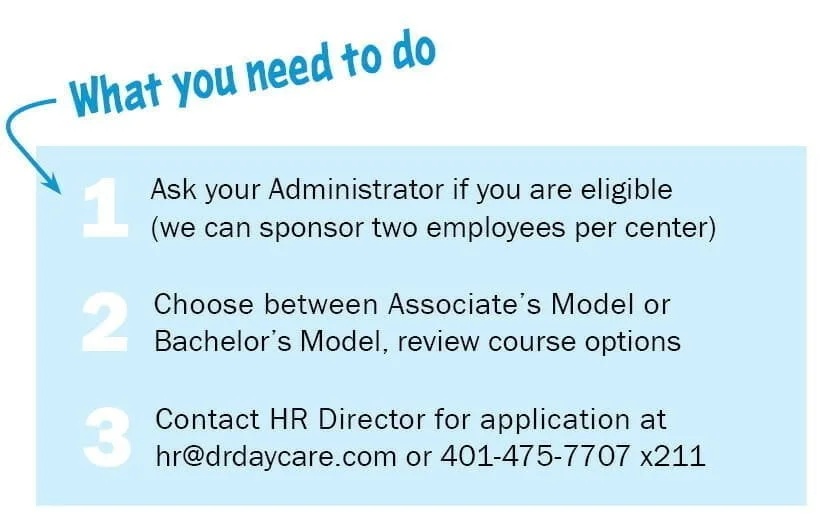 Looking to earn college credits and get a degree?  Apply for a T.E.A.C.H.® scholarship!
Covering 80-90% of the costs associated with tuition and textbooks, T.E.A.C.H.® awards scholarships to child care providers across the state who are pursuing coursework or seeking degrees in early childhood education at the Community College of Rhode Island, Rhode Island College, or University of Rhode Island. Applications for each semester are accepted on a rolling basis. Applicants must be employed full time at least 90 days at Dr. Day Care or Kids Klub.
What you need to do:
Ask your Administrator if you are eligible (we can sponsor two employees per center)
 Choose between Associate's Model or Bachelor's Model, review course options
Contact HR Director for application at hr@drdaycare.com or 401-475-7707 x211
You'll receive:
Paid tuition & fees from T.E.A.C.H. (80-90%)
Paid 3 hours/week release time for coursework from DDC/KK
Bonus award after completion
A college degree!
Associate's Model: Individuals who wish to apply for a T.E.A.C.H. scholarship for an Associate's degree will enroll at the Community College of Rhode Island.
Bachelor's Model: Individuals who wish to pursue a Bachelor's degree in infant and toddler or early childhood education can enroll in the cohort model or pursue a degree in early childhood education on an individual basis through RIC or URI.
Colleges participating in T.E.A.C.H. may vary, please visit T.E.A.C.H. RI website for updated information.


Receive: Associate's Degree, Bachelor's Degree
Cost: 80-90% of the costs associated with tuition and textbooks are awarded through scholarships
Learn more about T.E.A.C.H. at www.drdaycare.com/teach-rhode-island
Community College of RI (CCRI)
The Community College of Rhode Island offers programs that make it possible for students of all ages to return to school to meet their personal needs. One option is the Early Childhood and Child Development (CHLD) A.A. Degree
Receive: Associate's Degree
Cost: $180/credit + approximately $60 in fees = $600 per class
R.I. Early Childhood Education and Training Program (RIECETP) Grant
Free courses available for Rhode Island educators! If you are an Early Childhood Educator working with children ages birth through 5 in a DHS licensed center or family childcare setting, you may qualify to receive 12 college credits in Early Childhood Education for free with use of textbooks.
Application available seasonally at: www.ccri.edu/hmns/RIECETP
Penn Foster College programs
Program consists of four semesters. You must complete a separate re-enrollment application for each semester. The tuition is based upon $79 per credit for semesters one through three (Semester Four is included at no cost). Earn an Associate in Early Childhood Education from Penn Foster College. Nationally accredited and respected, with Penn Foster College you can pursue your degree and do so cost-effectively. Self-paced learning that is available online.
Receive: Associate's Degree
Cost: $1000 (prepay) to $1200 (monthly auto pay) per semester.
College Unbound
Reinventing higher education for underrepresented returning adult learners. Flexible and affordable plans. Receive a Bachelor of Arts degree in Organizational Leadership and Change. Your Faculty Advisor will help you pick a concentration area of study that you will pursue in your coursework. College Unbound has partnered with Charter Oak State College to help students earn college degrees. College Unbound provides the support services. Charter Oak provides the courses. Together they have created a project-based concentration to help students develop 21st century work skills.
Receive: Associate's Degree, Bachelor's Degree
Cost: $330 per credit, initial application fee of $100
Fisher College
The Division of Accelerated and Professional Studies (DAPS) at Fisher College serves adult learners with evening, online, and weekend courses. Classes can be held on campus at any Fisher College location (New Bedford, Boston, Brockton, North Attleboro) or online. If students are interested in pursuing the Associate degree in Early Childhood Education or the, Bachelor degree in Human Services: ECE, or EI concentration.
Receive: Bachelor's Degree, Master's Degree
Cost: all students are eligible to receive a 40% ECE Scholarship from Fisher College
Concordia Online
Online program, working with a group of students (a cohort). Submit all classwork online and work with professors from around the country. Each semester you will take 3 classes, one at a time. Each class is 5 weeks. Work experiences can count towards internships. Get your Bachelor's in less than 2 years and your Master's in a little over a year. Financial aid is available.
Receive: Bachelor's Degree, Master's Degree
Cost: varies between $400-$600 per credit (scholarships up to $3,000 available)
Child Development Associate's (CDA)
The Child Development Associate (CDA) Credential™ is the most widely recognized credential in early childhood education (ECE) and is a key stepping stone to future professional development and qualifies a person to be a Lead Teacher according to NECPA Accreditation standards.
Receive: Certificate
Cost: $425.00 plus $25.00 for book = $450.00
Dr. Day Care & Kids Klub offer tuition reimbursement! For details or assistance with any of these programs, contact your administrator or hr@drdaycare.com (or call 401-475-7707 x211) to learn more.
Find more professional development opportunities at: https://www.drdaycare.com/careers/professional-development/