Congratulations to our Employee of the Season:
Anne Shippee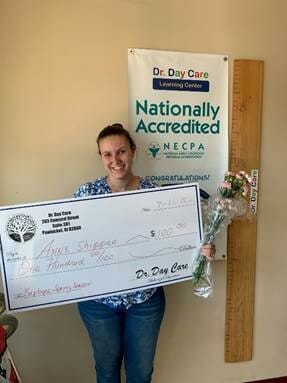 Shout out to Anne!
Anne is the Assistant Administrator at Dr Day Care South County. She has been part of the team since February 2019.
Congratulations Anne!

Some feedback from coworkers includes:
"Ann was promoted to Assistant Administrator and has done a great job of learning the role and becoming a Leader."
Other nominees included:
Alisha Heistand, Kids Klub Greystone & HR
Cindy Ramos, DDC North Providence
Tania Rodriguez, DDC North Providence
Madison Abrams, DDC Foster
Victoria Ballou, DDC North Providence
Amanda Meegan, DDC Cumberland
Victoria Carbone, Kids Klub McGuire
Laura Chace, DDC Foster
Anne Shippee, DDC South County
Samantha Starnes, Kids Klub Greystone
Tiffany Tinkham, DDC Cumberland
Nominate your coworkers
www.drdaycare.com/employee-of-the-season-nomination

The Employee of the Season will receive a check for $100, a $50 coupon code for a special "Employee of the Season" uniform item of their choice, and their name on a plaque at the Home Office!
Nominations & Awards are given every year for:
·     Winter (December, January, February) – nominations collected in March
·     Spring (March, April, May) – nominations collected in June
·     Summer (June, July, August) – nominations collected in September
·     Fall (September, October, November) – nominations collected in December