Congratulations to our Employee of the Season:
Tania Rodriguez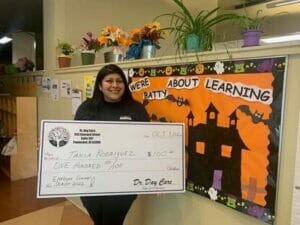 Shout out to Tania Rodriguez– our Employee of the Season!
Tania is a Lead Pre School Teacher at Dr Day Care – North Providence and has been part of the team since 2021.
Congratulations Tania!

Some feedback from coworkers includes:
"Tania runs an amazing preschool room and has come so far in her interactions, discipline techniques and confidence, and her recent ECERS observation showed that growth.  She is caring and calm with the children, and works well as a team with her co-workers."
Other nominees:
Aria Pierce – DDC South County
Alleigha DeSousa – KK No. Smithfield
Stacey Ernest – DDC Smithfield
Samantha Soares – DDC Pawtucket
Hailey L'Heureux – DDC Cumberland
Alisha Heistand – KK Greystone & HR
Chris Ann Perry – DDC South County
Maria Sosa – DDC Providence
Jacob LaRoche – DDC South County
Candra Habershaw – DDC East Greenwich
Vanessa Centeno – KK Pothier
Nominate your coworkers
www.drdaycare.com/employee-of-the-season-nomination

The Employee of the Season will receive a check for $100, a $50 coupon code for a special "Employee of the Season" uniform item of their choice, and their name on a plaque at the Home Office!
Nominations & Awards are given every year for:
·     Winter (December, January, February) – nominations collected in March
·     Spring (March, April, May) – nominations collected in June
·     Summer (June, July, August) – nominations collected in September
·     Fall (September, October, November) – nominations collected in December