Every year we complete an annual parent survey to get suggestions and input on our programs.  One DDC Providence parent asked us to share this additional feedback:
I'd like to take the time to appreciate the administrator of my daughter's daycare Ms. Linda Reyero.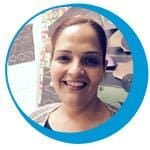 Since she's been the administrator at Dr. Day Care's Providence location I have grew extremely fond of her. Ms. Linda Reyero always keeps a professional yet fun-loving attitude. Several times I've been able to go to Ms. Reyero with any issue or complication and she always take the time to make the experience with Dr. Day Care that much better and easier. My daughter loves Ms. Linda and her staff and while she is under their care I feel a lot more comfortable with her being in a daycare facility. With that said, I would definitely recommend this facility for anyone looking for child care.