We hope all of our teachers had a great week!
Our centers have had a great time celebrating our teachers- with theme weeks, lunches, gifts, and more.  Here are some of the amazing comments that our Pawtucket Concord St. received from the parents in their center:
Shout out to all of the amazing teachers and staff! My kids have learned so much from so many of the talented teachers! Thank you for helping my kids to learn and explore! –Raymond Family
To all our teachers in PreSchool 2 – YOU ROCK!!! Thanks so very much for helping us to raise a caring, thoughtful and eager to learn daughter!! We couldn't do it without you!! Love! –Kelly Collamati
Special thanks to Ms. Isabelle and her crew for all they are doing for our beloved Olivia! Every week she's coming home with new words, games and expanded thinking. Thank you for all you do to foster her love of learning and school! –Derek Collamati
I would like to shout out Katie (Toddler 1) for being such a warm and amazing caretaker of my baby girl, Mila. Mila feels so comfortable and happy with Katie and there is no better feeling as a parent to know that your child is in good hands and above all being LOVED! Thank you is not big enough. I know Mila is not always easy Also, I would like to shout out AK and Betsy – always super friendly, warm and welcoming. Thank you for all of your help with Mila -Samantha Rivera
Lacey loves all her teachers! It is such an easy drop off when AK and Miss Katie are there. She has learned so much in the months she has been there. Everyone notices such a difference in her. I would recommend her teachers and the daycare to anyone! –The Broadmeadows
A shout out to Ms. Isabel for pushing the kids academically, ensuring that they are better prepared to enter Kindergarten. A shout of to Ms. Mary for being THE GAME QUEEN. Her love and enthusiasm are palpable and Nick absolutely loves her. –The Ortiz Family
I would like to shout out Ms. Isabel and Ms. Mary. –The Rezendes Family
I would like a shout out to be giving to Katherine Bailey, teacher for toddler 1 class.. -Flor Sanchez
Shout out to Miss Kelly, for being such a loving and patient teacher she plays a major role in the upbringing of my daughter!!!! –Judy Arrubla
We'd love to shout out Ms. Lakeisha. I got my card to them yesterday as well! – Srinivasan Family
I would like to SHOUT OUT Miss Jen for being a very thorough and caring Teacher and especially for wrapping Jakes diaper the way I do! She's the best! Also Ms. Charisma for always being there as my quarterback and Ms Betsey for being a quiet but constant support. Love Mr. AK too!!? –Graham Family
Please give a BIG thank you to all the teachers that take care of our princess Elyn, we really appreciate all what they are doing. Thank you?!! –Speid Family
Miss Isabel does an amazing job. The fact that Thessaly can't wait to return to school right after we get home is a testament to her great work as an educator. -The Garcias
Please give a shout out from "The Gloria's" to all the staff at Dr. Daycare. Since day 1, we have been more than happy with bringing Roman there and we recognize that everyone at some point has helped with him if even for a few moments. Everyone is always friendly and informative. We didn't want to single out anyone as it's the team as a whole that makes the place! Thank you all for everything you do! –Gloria Family
To: Ms Isabel, Ms. Mary, Ms. Kelly, Ms. Betsy, Ms. Rebecca, Ms. Katie B., Mr. A.K "A teacher inspires us to achieve our D.R.E.A.M.S" Thank you all for what you do daily and your dedication. Love, Tosin, Elizabeth, & Ebenezer ?
Even if I can only just pick one teacher I would have to say everyone in Infant 2 and Infant 1 should get an applause for teaching. They all do a good job and I love that I know my daughter is being well taken care of. –Alexis Dufault
Would like to give a shout out to: Ms Isabel, Ms Kelley (PS3), Ms Betsy, Ms Carisma, Mr. Ake, Ms Kate. Ms Amanda Mr Craig –Rivera Family
Katie, AK , Betsy, Becca, Ellen &Keisha. Shayleese loves you all. We thank you guys for all you do. –Herring Family
Ms. Isabell and Ms. Mary. Thank you for all that you do. Happy Teacher Appreciation week. -Love Yazhara Burleigh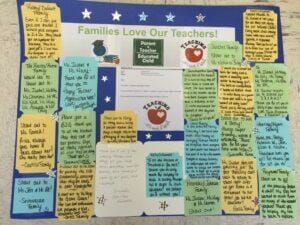 Class color day at Dr. Day Care Smithfield: