Here are some suggestions on how to welcome spring with your children:
Plant a garden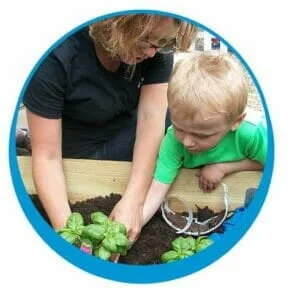 Children love getting their hands dirty- quite literally.  Together, plant flowers together from seed and watch them grow.  Discuss the plant's life cycle and stages of development.  If you don't have much of a green thumb yourself, try easy flowers that sprout quickly such as alyssum, cosmos, marigold, or zinnias.  Don't feel prepared to grow from seed? No problem, buy some small starter plants and document their growth together – chart their height, number of flowers, number of leaves, and more.
Build a bird house
Keep an eye out for birds returning to your yard!  Work together on building a bird house for your yard.  Discuss what kind of house the birds might like and research different ideas together.  Let your child take the lead in choosing the materials and construction plans for the bird house.  Watch what birds use it and discuss why they do or do not use it.  Experiment to see what draws more birds in (such as placing a bird bath or food nearby or placing it in an area with less foot traffic).
Watch the clouds
Spend some time looking up!  Observe the clouds together.  Discuss the shapes and colors that you see.  Create a cloud journal full of pictures or photos.
Clean your neighborhood
Teaching your child to help clean up trash is a good way to get involved in your community.  Prepare with gloves and a few trash bags and together you can clean up your neighborhood.  Go over a few ground rules before starting on what to pick up/what not to pick up and you may be surprised at how much trash you find!  Discuss what you are doing and why the trash is harmful to the environment.
Scavenger hunt
Many children have done an egg hunt around Easter, but try expanding this activity to other spring items.  Find yellow flowers, rocks, acorns, and more.  Hide new spring toys around the yard for your child to find.  Is your child getting older and looking for a challenge? Make a map of your backyard and have him or her follow the clues to find the hidden objects!
What other fun items do you like to do with your family to welcome spring?