Who do you think should be our next Team Member of the Year?
Every year we honor employees who go above and beyond with Team Member of the Year Award. We want to hear from you! Please nominate an employee (from Dr. Day Care, Kids Klub, Therapeutic Child Care Services, or the Home Office) who you feel should receive this award.
Please submit nominations by January 27, 2023.
Selection committee will review all nominations and choose a winner.

The Team Member of the Year will receive a check for $500, 5 days of PTO, and their name on a plaque at the Home Office!
Submit your nomination by completing the form below: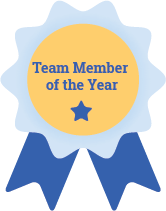 Team Member of the Year Award nomination
"*" indicates required fields
Thank you for supporting your coworkers!
View past award recipients: Team Member of the Year award winners