RI Pre-K is accepting applications from families with four-year old children living in eligible communities.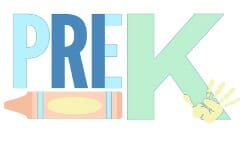 To be eligible to attend, children must be 4 years old by September 1, 2022 and be residents of one of the identified RI Pre-K communities.
Dr. Day Care has two RI State Pre-K classrooms:
What you need to apply:
An active email address
Working phone number
Child's legal name
Child's Date of Birth (Must be 4 by 9/1/2022)
Child's address
Monthly Household Income (Lottery is not income dependent)

The program runs from September 2022 through June 2023. There is no fee associated with participation in State Pre-K Programs. Children in state-funded Pre-K classrooms are selected for participation via a lottery managed by the RI Department of Education.
Getting children started in a Pre-K program is a powerful tool to prepare them for success across their entire educational experience. These learning opportunities are one way that we are building equity into everything we do at RIDE, helping make our goal of Excellence in Education a reality for every student in Rhode Island."

Commissioner Angélica Infante-Green
Applications to the statewide lottery are accepted through 11:59 pm on 07/06/2022.
For more information, please visit the RI Department of Education's RI Pre-K page.
Frequently Asked Questions
For more information on the RI Pre-K Lottery, please call 401-222-8184.
The 2022-2023 eligible communities include:
Bristol/Warren
Central Falls
Coventry
Cranston
East Providence
Johnston
Lincoln
Middletown
Newport
North Kingstown
North Providence
Pawtucket
Providence
South Kingstown
Warwick
West Warwick
Westerly
Woonsocket