From the Valley Breeze:
Newly selected school board member Vogel looks forward to learning, serving
By ETHAN SHOREY Valley Breeze Editor ethan@valleybreeze.com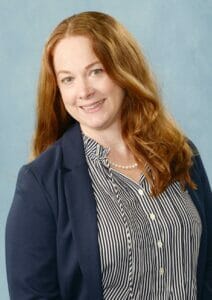 CUMBERLAND – The Cumberland Town Council last week chose Amy Vogel to fill the vacant spot on the School Committee, a position she told
The
Breeze
 she relishes embracing as she learns on the job and gives back to the town and district.
Vogel, of 10 Wampum Trail in Cumberland and CEOO and vice president of business operations at Dr. Day Care and Kids Klub Inc., secured the magic number of four votes necessary to edge Tracey Cook in the final council tally, despite coming in second to Cook during ranked-choice voting.
Cook had 28 points after the seven members of the council ranked five finalists in order of preference, compared to 25 points for Vogel, 20 points for Tim Iwuc, 19 points for Paul Young Jr., and 13 points for Jim Higgins.
Three council members at the special Jan. 18 council meeting initially had Vogel as their top choice, including Councilors Lisa Beaulieu, Bob Shaw and Jim Metivier. Councilor Peter Bradley's top pick was Iwuc, Councilor Tim Magill's top pick was Cook, Council President Mike Kinch's first choice was Higgins, and Councilor Scott Schmitt's top pick was Young.
With five total candidates then in the mix, the council members ranked the candidates on paper ballots, to get to the final 28-25 totals for Cook and Vogel.
Down to the two finalists, Vogel then defeated Cook 4-3, with Shaw, Schmitt, Beaulieu and Metivier all voting for her, and Kinch, Bradley and Magill all casting votes for Cook.
Kinch said the final group of 16 applicants for departed school board member Paul DiModica's seat, down from 19 candidates originally, is a talented bunch and any of those who applied could have done the job. He thanked everyone for their willingness to take part, saying this was a very difficult process for the council to complete.
Before the vote took place, Shaw also thanked everyone for stepping up, saying it was a relief to see so many people willing to get involved in future elections. Shaw said his decision was made when he heard at the School Committee last week that members were looking to see if the district was to explore before and after-school care at least in Title 1 schools. Supt. Phil Thornton said they were exploring it.
Vogel then became the clear choice for the job due to her extensive experience in the field and managing budgets and understanding state funding, said Shaw. She comes with the experience in dealing with parents of children in all types of situations, with the institutional knowledge to potentially know the right questions to ask and to save costs and time.
"Let us give them the tools they need," said Shaw.
Vogel says she's looking forward to bringing her knowledge to help find solutions, but says her biggest task is to "get in there and listen" and learn, not simply pushing what she believes is best but learning from other school board members, teachers and faculty to learn from their expertise.
"I really believe in history and wisdom," she said.
Vogel said she'd been thinking about the position for some time, acknowledging that it was less intimidating to submit her application than to run a full campaign. That said, she plans to run again when her current term is up, she said. She noted that her mother, State Rep. Mary Ann Shallcross-Smith, has run many campaigns that she's been a part of, so she understands the process.
Vogel is married to husband Andrew Vogel, a U.S. Army member who served in Afghanistan and Iraq. Her daughter is a 7th-grader at North Cumberland Middle School, and she serves as co-president of the Cumberland-Lincoln Rotary and is on the executive board for the Northern Rhode Island Chamber of Commerce.
In her spare time, she said, she loves volunteering and giving back, including with projects helping the Northern Rhode Island Food Pantry and Franklin Farm. She also recently started for the first time as a CCD teacher.
Ultimately, said Vogel, she lives her life trying to think of how she can be the best person possible for her community and neighborhood, and to find ways to make them better.
Beaulieu said last week that Vogel was the right choice from among many wonderful candidates. This is such an important job, said the former 10-year at-large School Committee member, and she believes Vogel in her profession has the experience to represent the entire district, and she is "incredibly well-credentialed to fill the role."
Beaulieu said she was also happy to receive an email from Vogel after the council's interviews of candidates, where she said she'd taken her up on her challenge to attend a School Committee meeting.
Committee Chairperson Karen Freedman thanked the council for its time and effort, saying she was inspired during the process by what she sees as the next generation of school board members, including 19 original candidates.
Kinch thanked the School Committee for participating, saying they tried to run the search for a replacement in as flawless a way as they could.
Vogel said she was honored and grateful to be chosen, saying she appreciated officials' kind and supportive words. There were some amazing candidates for the vacant seat, she said, and Cumberland is lucky to have so many people who want to do their best for children, the school system, and the community.
Read at the Valley Breeze: https://www.valleybreeze.com/news/newly-selected-school-board-member-vogel-looks-forward-to-learning-serving/article_e02ea990-9b95-11ed-ae0b-0369005dde43.html