Congratulations to our Employee of the Season:
Emily Franceschi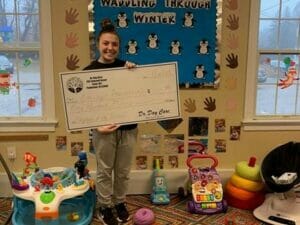 Shout out to Emily– our Employee of the Season!
Emily is a Lead Infant Teacher at Dr Day Care – Cumberland and has been part of the team since 2020.
Congratulations Emily!

Some feedback from coworkers includes:
Emily is one of the hardest workers I know!! she is always determined to make sure her infants are well taken care of, loved, appreciated, and so much more! She is always taking "one for the team" by helping others and the center all together!
She is a great human overall and she is all considerate and loving of others!!!
She goes above and beyond for the children in the infant classroom.  She is a Great Teacher.
Other nominees:
Gabbie Stevens – Cumberland
Hailey L'Heureux – Cumberland
Alisha Heistand – Home Office
Amy Vogel – Home Office
Ramona Martinez – Greystone
Amanda Meegan – Cumberland
Linda Reyero – Providence
Miranda Rivera – Globe
Maria Sosa – Providence
Nominate your coworkers
www.drdaycare.com/employee-of-the-season-nomination

The Employee of the Season will receive a check for $100, a $50 coupon code for a special "Employee of the Season" uniform item of their choice, and their name on a plaque at the Home Office!
Nominations & Awards are given every year for:
·     Winter (December, January, February) – nominations collected in March
·     Spring (March, April, May) – nominations collected in June
·     Summer (June, July, August) – nominations collected in September
·     Fall (September, October, November) – nominations collected in December