written by Rida Jawed, Marketing & Social Media Intern
This summer, three interns from the PrepareRI internship program have been working at Kids Klub with school age children at the North Providence Kids Klub Hasbro Summer Learning Program.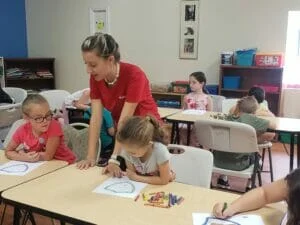 Recently, the interns moved to the Dr. Day Care & Kids Klub Home Office to work on a Civics Curriculum. They also had an opportunity for hands-on experience with the Dr. Day Care school age children. The school age children are of various ages which was a good challenge for the interns to ensure they met all the children's needs. The Kids Klub interns, Maggie Nardelli, Sophia DiPaolo, and Mia Jackvony, worked out an "all about me" activity to do with the school age children to experience that challenge.
The activity consisted of a shield print which the children personalize based on factors like favorite season, age, pets, siblings, and favorite food. The children had lots of questions and were very engaged in the activity. This activity not only allowed the children to express themselves, but also to have exposure to making choices. The children had to choose one season or one kind of favorite food which enhanced their decision-making skills. Additionally, the students learned a lot about each other.