We have exciting news! This school year, students attending the  Nowell Leadership Academy have a new on-site child care option – Dr. Day Care!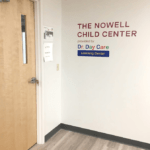 In the past, Dr. Day Care partnered with the Nowell Leadership Academy. We have offered child care at our Dr. Day Care Providence location. This year, there is a brand new facility right in the academy! We are honored to have been invited to offer our services. This new child care center will be led by our Dr. Day Care Providence Administrators, Linda and Amanda.
Our new location provides quality infant and toddler care for parents/guardians of Nowell Leadership Academy students.
The Sheila C. "Skip" Nowell Leadership Academy's mission is to ensure that Rhode Island's pregnant, parenting and underserved youth graduate from high school with the knowledge and skills they need to be prepared for success in college, career and family life. Dr. Day Care is excited for the opportunity to provide infant and toddler services at Nowell Leadership Academy!
For more information about our new location, visit www.drdaycare.com/locations/nowell-leadership-academy
For more information about the academy, visit www.nowellacademy.org