Your "yes" vote will help child care programs across Rhode Island!
Bond Question 5 will invest $15 million in early learning programs. Funds will be used to address the creation or rehabilitation of high quality child care spaces. Small grants for urgent health and safety, quality improvement and reconfiguration of spaces to enhance capacity and serve additional priority populations, such as infant/toddler will be issued. This will help child care providers  serve more families, which will grow their businesses!
Take Action!
STEP #1:
MAKE A PLAN TO VOTE.
Important dates to know are below. Make a plan to vote, and encourage your friends and family to make a plan, too!
Feb. 10 – Mar. 1: Vote early in-person at your local city or town hall during normal business hours.
March 2: Special Election day – vote at your designated polling location!

STEP #2:
RAISE AWARENESS FOR YES! ON 5
Facebook: @VoteYesOn5RI
Twitter: @VoteYesOn5RI
Use the hashtag
#YesOn5RI
Learn more: https://yeson5ri.org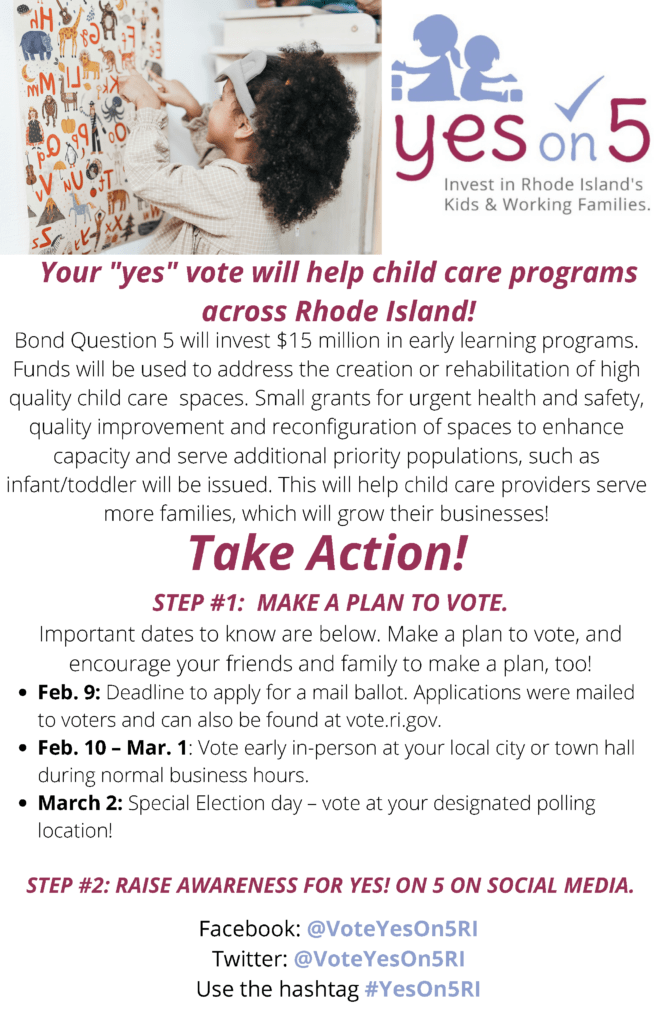 5 Reasons to Vote YES on 5!
Expand High Quality, Affordable Child Care Options
Invest in the creation and rehabilitation of high-quality early learning spaces, creating new child care seats for Rhode Island's working families.
Expand & Improve Existing Child Care Facilities
Invest in the expansion of existing child care programs so they can upgrade learning opportunities for our young children, serve more working families, and grow their businesses.
Improve Learning Environments for Rhode Island Children
We know that early learning experiences, which occur in high-quality child care settings, are essential to providing children with a strong pathway in school and life. Voting Yes On 5 will improve learning environments in child care programs across Rhode Island.
Support Our Child Care Providers & Early Childhood Educators
Rhode Island's early childhood educators are some of our kids first and most important teachers. They deserve to teach in high-quality learning environments where they can help our children learn, grow, and thrive.
Help Our Child Care Providers Meet Immediate Needs
Voting Yes On 5 will provide small grants to child care providers across Rhode Island to help them with immediate needs like meeting health and safety standards and reconfiguring spaces to serve more young children.