Dr. Day Care Pawtucket Thornley received a helping hand from their community this weekend!
The Mercurio Group Real Estate teamed up with Precision Graphics and Jimmy's Painting and Repairs to give a makeover to the Dr. Day Care Pawtucket Thornley St. playground. Sherri Mercurio gathered a crew to paint, clean, and beautify the playground and child care building!
Work included a coat of paint on the playground equipment, painting exterior building walls, educational signage along the fence, and spring cleanup throughout the entire playground. Dr. Day Care Pawtucket Thornley St. offers care and education for approximately 125 children, ages 6 weeks – 12 years old. The children were so excited to see the playground makeover when they arrived on Monday morning!
Dr. Mary Ann Shallcross Smith first met Sherri Mercurio as a guest on her tv show, Women's Business. During the interview, they discussed how giving back to her community is important to Sherri,
I enjoy doing community service because I like to make a difference. I enjoy the feeling of making people happy and uniting people from diverse backgrounds to work toward a common goal."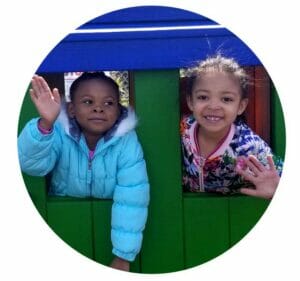 Local business owners came together for the children in their community. Ron Kit of Precision Graphics and Signs noticed the view of the train tracks behind the Dr. Day Care playground fence. After collaborating with the site Administrator, Matthew Aspeel, Precision Graphics donated educational signs and installed on the fence to enhance the playground appearance while also providing learning opportunities. Jimmy Deangelus Sr., the owner of Jimmy's Painting and Repairs LLC, donated paint and his skills and expertise to protect and upgrade the playground equipment.  The refreshed wooden train is a huge play time favorite!
Sherri also gathered a crew of volunteers who dedicated their time and talents to help implement this vision, Lynn Houston Page, Kurt Houston, and Moussa Camara.  Sherri says of volunteering in her community, "Each time I volunteer, I discover many hidden talents that change my view on my own self-worth. Not only does it bring me happiness, but volunteer work is known to reduce stress, and makes you healthier because it creates joy. I love giving back to a community that has done so much for me and my own business."
Thank you to the following small business owners:
Sherri Mercurio – The Mercurio Group Real Estate
Ron Kitt – Owner of Precision Graphics in Pawtucket
Jimmy Deangelus Sr – Owner of Jimmy's Painting and Repairs LLC
Thank you to the hardworking volunteers:
Lynn Houston Page
Kurt Houston
Moussa Camara