written by Rida Jawed, Marketing & Social Media Intern
Come visit northern Rhode Island's hidden gem, the all-new Biagio's Pizzeria and Bar. With Najib Khalif, their Moroccan chef of 15 years' experience from Boston to Newport, they serve melt in your mouth Mediterranean, Italian, and American dishes that will keep you coming back for more. From soups and pasta to their special Neapolitan Pizza, they have the finest cuisine you will find in town.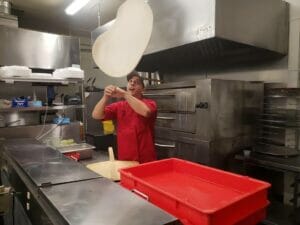 This 55-seat restaurant was designed by Glen Lepore of LDL Studios in Providence. A pizzeria should be a place to bring large families and groups and this restaurant can certainly handle that. Away from all the busy life and drive-thrus, you can find an at-home feeling with a comfortable and cozy restaurant setting. You will be greeted by the owner, Sonia Villeti herself, as her passion is delivering quality service and her staff follows in her footsteps. Sonia welcomes your family, bring in kids as well as adults and have a quality time with your loved ones.
Offers
In a hurry or no time for dine-in? Biagio's also has quick service through GrubHub as well as on www.biagiospizzeria.com. Additionally, Biagio's  serves single pizza slices for every day quick bites with a variety of toppings; cheese, pepperoni, lasagna, chicken bacon ranch, and buffalo, just to name a few!
Biagio's also caters any office parties, family gatherings, or birthday parties. Offering their house specialty pizzas, salads, and grinders, catering is only a click away.
About the owner
The owner, Sonia Villeti, lives by the idea that "Behind every successful business is a woman." Being a woman in her generation, she had to take certain measures to be this successful. Dr. Mary Ann Shallcross Smith, the CEO of Dr. Day Care, says, "Starting in the 70s as a woman in business with minimal resources and support, I pledged to support and provide networking opportunities to women in the workforce," and suggested that Sonia join the Northern Rhode Island Chamber of Commerce. Biagio's is looking forward to showcasing the pizzeria during NRI's Networking at Night evening for Chamber members to network and build support for each other.
Initially, Sonia used to work at the same place, previously known as "Biagio's Pizzeria." After the owner wanted to sell it in February, Sonia took the restaurant into her own hands. The location was fully renovated to fit the family style of the new pizzeria. August 1st marks the six month anniversary of the restaurant and they also welcome Chef Najib Khalif and his wife, Sara's, first daughter Rayhana, born a month ago!
Daily Specials
The Bar at Biagio's offers daily specials. With 18 crafts and drafts that revolve, you're sure to find a beer that you like!
Mon – $10 pitchers of domestic beer along with the 50¢ wings [dine in only]
Tuesday – 50% off of wine bottles
Wednesday – $8 Martinis
Thursday – $7 9oz glass of wine
Friday – $5 pints of IPA of 'The Day'
Saturday – $8 Sangrias and Margarita
$3 pints Coors Lite or Bud Lite every day
Come Visit or Call and order
Sonia Villeti
970 Douglas Pike, Smithfield, RI 02917
401-830-5477
Hours:
Monday-Thursday: 11:30am – 9:00pm
Friday-Saturday: 11:30am – 10:00pm
Sunday: CLOSED