updated: 9/23/21
We are putting safety first to protect our families and staff.  All teachers and staff go through frequent training on health and safety practices.
We continue to work closely with the Rhode Island Department of Human Services (DHS), and follow CDC guidelines and the Reopening RI Child Care Playbook. We have worked hard to make changes to allow us to provide a service for families. Read more at reopeningri.com.
Some changes you will notice:
Temporary hour change. Our operating hours are temporarily changed, to minimize staff scheduled in multiple classrooms to reduce the spread of the virus. Our hours of operation for Dr. Day Care are 7:30 am – 5:30 pm.
Face masks. As of Monday 3/7/22, masks are optional.
Drop-off and pick up routines. As of 6/28/21, authorized contacts will be able to drop off and pick up inside the center.

Please note that, per the Rhode Island Department of Health (RIDOH) and Department of Human Services (DHS), all adults and school age children must wear a mask while inside a child care facility. Also, social distancing measures should remain.
Please also minimize the time spent inside the center. RIDOH recommends spending no more than 15 minutes per day in the center to prevent quarantining and exposure to others. Please help us minimize risk by keeping your time in the center within this timeframe.
When you use Procare to sign your child in and out you are attesting that you and your child have no symptoms of COVID-19.

Handwashing and sanitizing. Everyone who enters the building will need to wash hands, and we'll continue to incorporate handwashing into our curriculum. Hand sanitizer dispensers will be available at entry areas and throughout the center.
Increased cleaning & disinfecting. Staff will continue to clean throughout the day. Toys, playground equipment, and other high-touch surfaces will be regularly disinfected and rotated throughout the day.
Increased professional cleaning.  Professional cleaners will clean and sanitize daily. Each center is also scheduled for a deep cleaning before the center reopens.
Stay home if sick. Children, employees and visitors with a 100-degree Fahrenheit or higher temperature will not be allowed to attend child care or work.  Children and employees will need to be fever and symptom free for 24 hours without a fever reducing medicine.
Sick space. Centers will have a dedicated space where teachers can care for sick children while being separated from others until child is picked up.
Playground restrictions. Outdoor play structures will be utilized by one class at a time, with increased time between play to allow for cleaning.
Field trips and events. All in-person program assemblies, special activities, field trips and program wide events will be canceled or postponed.
Meal time changes. Meals are catered by B&M Catering, for menus, see here.
Updated policies. Policies and procedures were updated to reflect these changes. Please see center Administrator for details.
Thank you for your understanding as we try to clearly communicate the changes that we have made. We will make every update to update the information on this page as changes are made.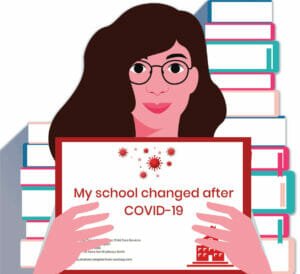 Children's social-emotional health is also important during this time. Children may have many emotions about returning to school. They may not fully understand why there are changes in their school. Some teachers and classmates may not return or there may be new faces in the classroom. We released a new social story that focuses on acknowledging and sharing children's feelings in reaction to COVID-19: My school changed after COVID-19